I'm spending this month with my in-laws, who live in a tier-2/3 town in Thailand that's around 100 kms outside of Bangkok. I spent a month working here two years ago, and this is the first time that I've has a similarly sustained period of time here doing anything other than relaxing. During this spell I've noticed a few interesting trends relating to the growth of smartphones: chiefly that the Internet cafe business is looking a lot less attractive these days.
Note that this isn't your typical urban coffee shop with (perhaps) free Internet access and decent coffee, it's little more than a shopfront decked out with 20-30 old school Windows PCs and fixed-line Internet that is priced per hour.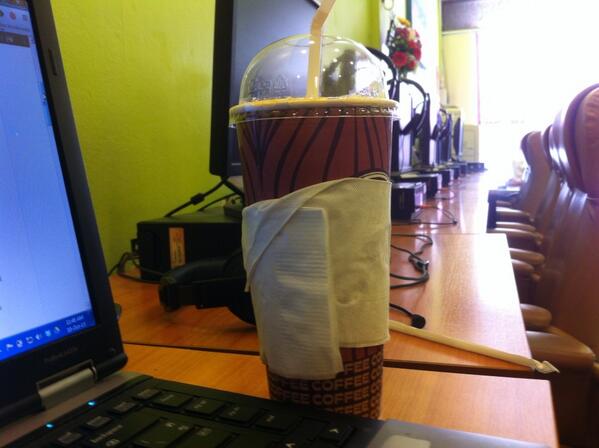 ISP issues at my in-laws' house forced me to spend a week working from a local Internet cafe which I frequented for work back in 2011, here are some observations:
– Far fewer young people came to the Internet cafe. That's surprising because they are notorious for being full of kids playing online games, and October is a school holiday period in Thailand. This seemed to apply to other Internet shops that I stopped by.
– The cafe I spent most time at probably saw around 10 kids maximum between 9:00 am and 7:00 pm most days, that's opposed to being at full capacity during my stint in 2011.
– The shop owner told me that she thinks most of the youngsters, who would typically come for a few hours per day in groups, are instead playing with mum's/dad's/brother's/sister's/their own device either at home or out in groups, and that gives them little motivation to go out to an Internet shop and spend their precious pocket money.
– Internet cafes are cheaper than ever. The place I worked from charges just 15 THB ($0.50) per hour. I recall that price was 20/25 THB two years ago, which is remarkable given that the general cost of living has slowly crept up over that time.
– This Internet cafe is considering installing WiFi. The owner told me that's because many kids that have devices also suffer poor/non-existent Internet, but she is weighing issues around physical space/managing future access once customers have the log-in/quality-of-service/pricing/and more.
– One of the youngsters from my extended family (aged 15) recently switched his BlackBerry for an iPhone… an iPhone 3GS that he bought privately. That's considered big time among his circle, since most of his friends are transitioning from BlackBerry to no-name Androids or perhaps an iPod Touch, assuming that they have a smartphone at all.
I've previously observed a growth in handed-down or second/third-hand devices among people that seem to be first-time smartphone owners, and it's pretty clear that the effects of the slow trickle down are being felt by Internet cafe owners – or at least those in my family's town.
(Interestingly there are plenty of iPhone 3 and 3GS devices being sold online at sites like Shopspot – although e-commerce is still fairly nascent in Thailand, particularly when it is C2C and in places outside of major cities.)
Two years ago it was a real pain working from this Internet cafe, which was heaving with kids and noise, but this year the wired Internet and relative quiet made it an unexpectedly productive environment.
I'm not sure whether it will be open for business if I return in another two years though.